Utilize the Company Lookup Tool to Obtain Actionable Business Intelligence on Over 19 Million U.S Companies
Search US Businesses with the Company Lookup Tool by NAICS Association. Identify NAICS and SIC Codes and Descriptions, DUNS Numbers, Annual Sales, Total Number of Employees and Employees On-Site, Address and Phone Information, Contact Names, and Line of Business.
Search US Companies by
Phone or DUNS Number
Search US Companies
by 5-Digit Zip Code
Search US Companies by
Name and Full Address
Gain Valuable Insight Into U.S Companies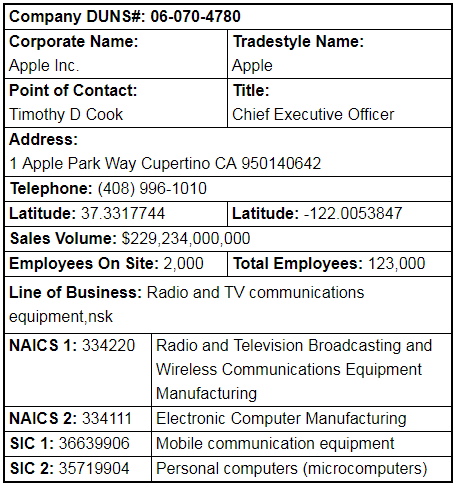 Search through 19 Million Companies to Obtain the following Data:
• DUNS Number
• Business Name
• Tradestyle Name
• Physical Address

• Telephone Number
• Sales Volume
• Total Employees
• Employees on Site
• Two NAICS Codes & Descr.
• Two SIC Codes & Descr.
• Top Contact Name/Title
• Line of Business
Single Look-ups can be purchased for $9.95 per record. Search for a Business to select a single record for purchase.
With The Company Lookup Tool, Hard to Obtain Information is Now Easy to Access!
With Access to a database of over 19 Million US Business Locations, you can perform a Company Lookup to obtain NAICS and SIC Information, DUNS Numbers, Company Size Information, Addresses, Phone Numbers, Contact Names, Lat/Long and More in Just Seconds!
Where once you would have to purchase an expensive company credit report or subscription to obtain these vital data points, now you can purchase the data you need to keep your client information accurate and up to date with vital, actionable data.